Java and Eclipse for Computer Science
by Sean D. Liming and John R. Malin
Practical Textbook for Learning Java Programming, Computer Science, and Eclipse
Coming Soon!

Starter Guide for Windows® 10 IoT Enterprise
by Sean D. Liming and John R. Malin
Covers all the basic functions of System Image Manager (SIM) for use with Windows 10 IoT Enterprise and other Windows 10 desktop versions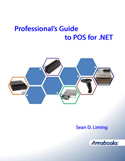 Professional's Guide to POS for .NET
by Sean D. Liming
Covers the details of the POS for .NET V1.12 SDK. Also, good for POS for .NET v1.14.

Professional's Guide To Windows® Embedded Standard 7 - 2nd Edition
by Sean D. Liming
The complete guide to learn WES 7 from the ground-up! 2nd Edition coming in September